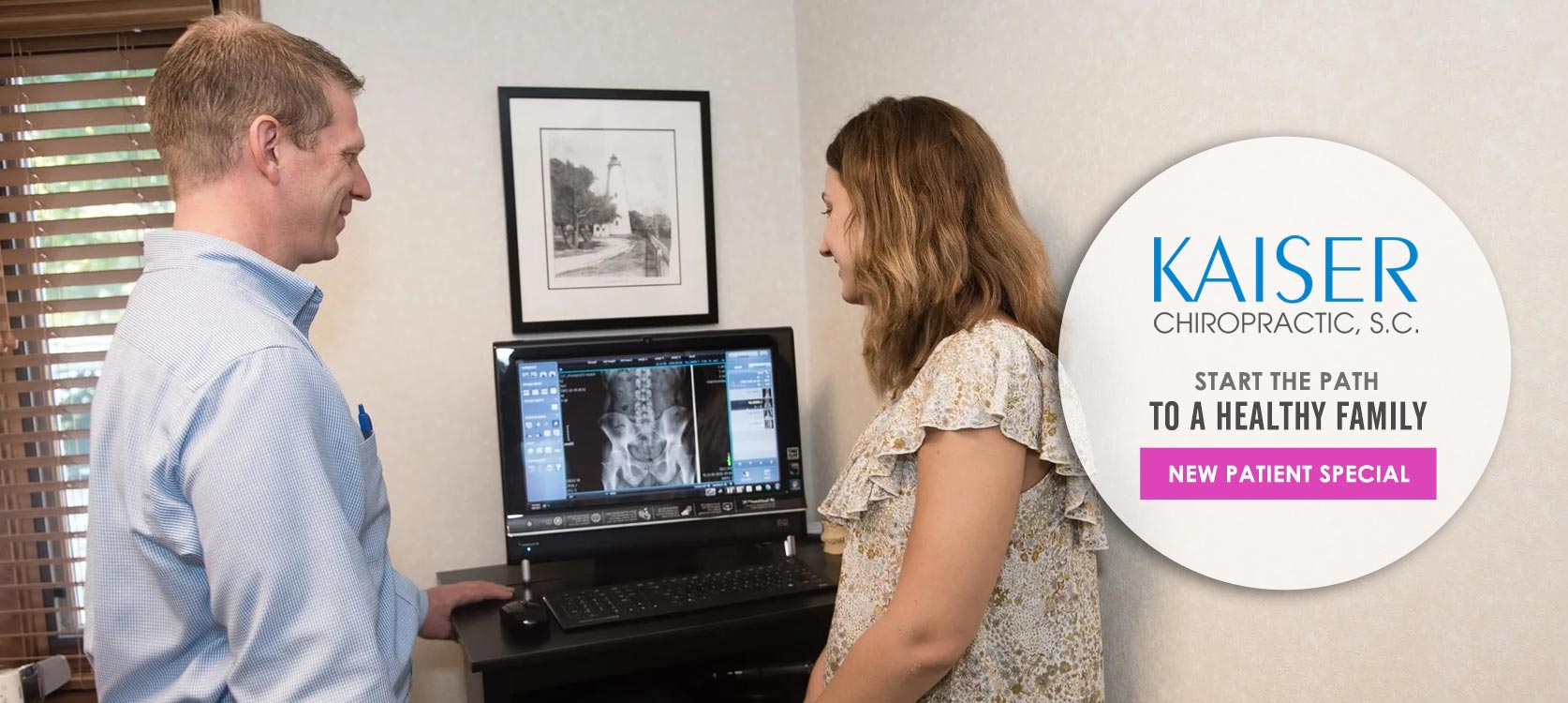 FROM PREGNANCY TO PEDIATRICS
FOR ALL OF LIFE'S CHANGES, LET US HELP YOU.
PRECISE CARE
With a Gentle Touch
Our team at Kaiser Chiropractic, S.C. in Lake Geneva, is dedicated to helping you achieve optimal health and wellness through chiropractic, massage therapy, exercise, and nutrition. Our focus is to maximize your quality of life. We are committed to helping you go from pain-relief to wellness. Lake Geneva chiropractor Dr. Christopher Kaiser and his team have a genuine concern for your well-being.
Patients seeking treatment at our office are assured of receiving only the finest quality care through the use of modern equipment, technology, and education. Each patient receives one-on-one treatment to tailor specific care plans to meet their needs and goals through the chiropractic adjustment and therapeutic massage.
If you are new to our website, feel free to discover and learn about chiropractic care and massage therapy, whether it is for pain relief, wellness, or anything in between. You can explore the New Patient Center for more information specifically targeted for your wellness needs and interests.
Chiropractor Lake Geneva WI
Kaiser Chiropractic, S.C.
The Thompson Technique
We provide advanced spinal correction utilizing "state-of-the-art" chiropractic techniques. Lake Geneva chiropractor Dr. Christopher Kaiser has years of training and experience in spinal adjustments.
This specialized method of chiropractic care uses a table with several drop piece segments to open the spine. When these segments are adjusted, the table drops and the joints open for adjustment. This kind of chiropractic care is widely used since it minimizes the amount of force required for adjustment and provides many benefits to its patients.
Benefits of the Thompson Technique:
Greater strength
Increased flexibility
Greater resistance to injury
Improved sleep and relaxation
Ease of aches and pains
Greater tolerance for stress
Generally improved health
Better posture
Improved self-healing
The History of Chiropractic Care
The word Chiropractic is derived from the Greek words "cheir" (hand) and "praktos" (done) combined to mean "done by hand." It was chosen by the developer of chiropractic care, Daniel David Palmer.
In 1895, D.D. Palmer performed a chiropractic adjustment on a partially deaf janitor, Harvey Lillard, who later reported that his hearing had improved due to the change.
D.D. Palmer opened the first chiropractic school two years later, and in the century since, chiropractic professionals have used spinal adjustments to help people prevent and cope with back pain, carpal tunnel, muscle strain, headaches and migraines, and a variety of other physical ailments. Millions of people benefit from the work of Dr. Palmer today.
Training of a Chiropractor
Chiropractic doctors go through a minimum of four years of schooling at a chiropractic college, generally preceded by an undergraduate degree in the basic sciences or several years of experience in a prior relevant health care field.
Students of chiropractic care must spend a minimum of at least 4,200 hours with their teacher, and a minimum of 1,000 hours of fully supervised clinical training with an instructor as they learn the appropriate diagnosis and treatment techniques to help heal your body and restore it to its natural, fully functioning state.
Our chiropractic team is ready to meet with you to discuss your needs. We will help to design a program that is right for you. We look forward to meeting you. Call today to schedule an appointment.
COMMON CONCERNS, CONDITIONS, AND ISSUES
Help Your Family Experience Incredible Health.